Two new exhibitions curated by Sixpack Projects' Jillian Nakornthap are now on view at the Community Folk Art Center in Syracuse, NY; so all you East Coast fans of Sixpack Projects rejoice!
Community Folk Art Center is presenting two exhibitions, "Corporeal Contours: Works by Firelei Baez and Andrea Chung" and "When We Just Existed: Works by Deborah Roberts." These exhibitions open on Saturday, March 9, with a reception from 3-5 p.m. and will feature performances by the Underground Poetry Spot. In tandem with the exhibition, there will be an interactive space sponsored by Imagining America that will allow viewers to further engage with the exhibition by creating their own silhouettes.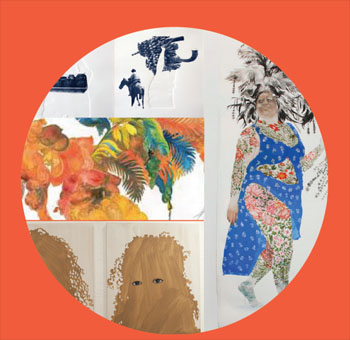 CORPOREAL CONTOURS:
"Corporeal Contours" confronts issues of identity in the Caribbean through silhouetted forms. Curator Jillian Nakornthap says, "While it is hard to capture the vast diversity of the Caribbean, this exhibition focuses primarily on two countries—Jamaica and the Dominican Republic—and the impact that their respective imperialist European nations had on their identity and social structures."
Firelei Baez is a New York-based artist who has gained many accolades over the course of her young career, including the prestigious Joan Mitchell Painting and Sculpture Award in 2010. Her work explores perceptions of the idealized female body, Dominican folklore and history.
Andrea Chung, who is currently an artist-in-residence at the McColl Center for the Arts in Charlotte, N.C., is a California-based artist who examines the social constructions created by tourist advertisements and post-colonial societies in both Jamaica and Trinidad. In many of Chung's pieces, she physically cuts out the natives or workers from tourist advertisements or archival photographs, questioning the person's importance amongst the lush landscape.
WHEN WE JUST EXISTED:
"When We Just Existed" is Deborah Roberts' New York solo exhibition debut, where she investigates the prepubescent stage of a young girl's life and the residual affects it has on her as an adult. In many of Roberts' paintings, she employs her adolescent self as the subject and then, will often layer the figure with bleach, paint and string. Her intention is to question the assertions that are put upon girls before they are able to formulate their own identities. Nakornthap adds, "There is an indescribable tension that is happening in Deborah's work, where the viewer feels pulled between a child's innocence and the harsh realities of the world."